Clean Air Asia together with the Clean Air Forum Society of Malaysia (MyCAS), Malaysia's Ministry of Natural Resources and Environment, and the Natural Resources and Environment Board of Sarawak are organizing the 10th Better Air Quality (BAQ) Conference at the Borneo Convention Centre Kuching in Sarawak, Malaysia from November 12-16, 2018 with pre-events from November 12-13 and the main conference from November 14-16.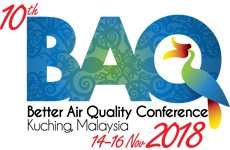 We're in a race against time
Air pollution is now recognized as a global public health crisis, linked to 6.5 million premature deaths per year, with Asia bearing the brunt of the mortalities. Immediate transformative action and technological innovation is needed to hold global average temperature rise to below 2°C on pre-industrial levels, as stipulated in the Paris Agreement, and in order to achieve the United Nations' Sustainable Development Goals.