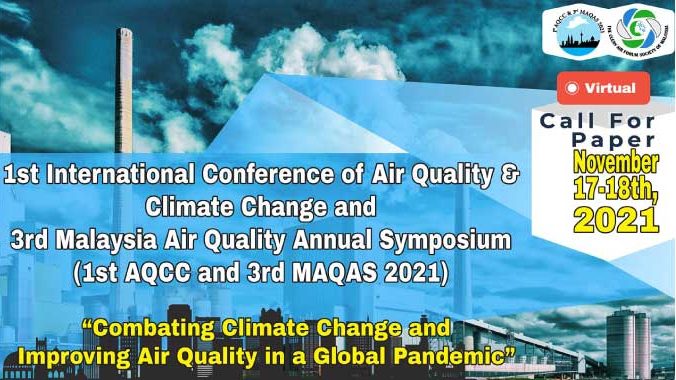 International Conference of Air Quality & Climate Change and 3rd Malaysia Air Quality Annual Symposium (1st AQCC and 3rd MAQAS 2021) 17 and 18 November 2021, Virtual.
Website, Registration & Submission: https://submit.confbay.com/conf/aqccmaqas2021
Welcome to the 1st AQCC and 3rd MAQAS 2021!
This year, the AQCC and 3rd MAQAS 2021 will be organized by The Clean Air Forum Society of Malaysia (MyCAS).
The conference will be conducted virtually on 17 & 18 November 2021.
Over the past several decades, global air pollution has become more serious, particularly in urban areas due to rapid urbanization and industrialization. Air pollution has been linked to higher rates of cancer, heart disease, stroke, and respiratory diseases such as asthma.
Hence, it is vital to tackle the air quality issues. Thus, the conference emphasizes interdisciplinary research along with practices and fosters exchanges among scientists, practitioners, professionals, and young researchers who are concerned with the above aspects.
This conference covers a wide range of fundamental, applied, and technology aspects of aerosol science and air quality that are focusing on monitoring and control strategies, health impact, policy and management, big data and air pollution modeling using earth observation data, atmospheric transport, and emissions from the combustion process.
1st AQCC and 3rd MAQAS 2021 serves as a platform which provides opportunities to establish the networking among scientist, practitioners, professionals and young researchers.
In addition to enhancing the dissemination of research findings and innovative practices, we are pleased to invite you to submit papers and participate through presentations and published proceedings/journals.
SCOPE & SUB-THEMES
Topics of interests for submission include, but are not limited to:- Aerosol and Atmospheric chemistry
– Air pollution sources and emissions
– Air quality monitoring, Policy, and Management
– Air quality and health Impact
– Health Risk and Epidemiology of air pollution
– Indoor air quality, Ventilation in epidemic preparedness
– Instrumentation, Measurement, and Air sampling technologies
– Nanoparticle and Nanotechnology
– Pollution prevention, control technologies, clean and smart energy Sustainable Research and Climate Action
– Smart Sensors and Big Data
– Applications, Modelling, and Remote Sensing
PUBLICATION OPPORTUNITY
ALL accepted papers will be published in Scopus-indexed proceeding, IOP Conference Series: Earth and Environmental Sciences (EES).
Prospective authors are invited to submit full-length original and previously unpublished papers for potential publication in (with additional fee):i) Aerosol and Air Quality Research (Q2 Scopus-indexed Journal)
ii) Journal of Engineering and Technologies Sciences -Scopus (JETS)
IMPORTANT DATES (GMT +8:00)
Abstract Deadline: 15 August 2021 Abstract Acceptance Notification: 18 August 2021 Full Paper Deadline: 31 August 2021 Acceptance Notification: 15th September 2021 Camera-ready Paper Deadline: 30th September 2021 Early Bird Deadline: 1st July 2021
CONTACT US:
Email: 2021AQCC@gmail.comPhone:
+6017-988 4115;
+6017-6834103;
+6019-9106100 Address:
1st International Conference of Air Quality & Climate Change and 3rd Malaysia Air Quality Annual Symposium (1st AQCC and 3rd MAQAS 2021) The Clean Air Forum Society of Malaysia (MyCAS) Malaysia