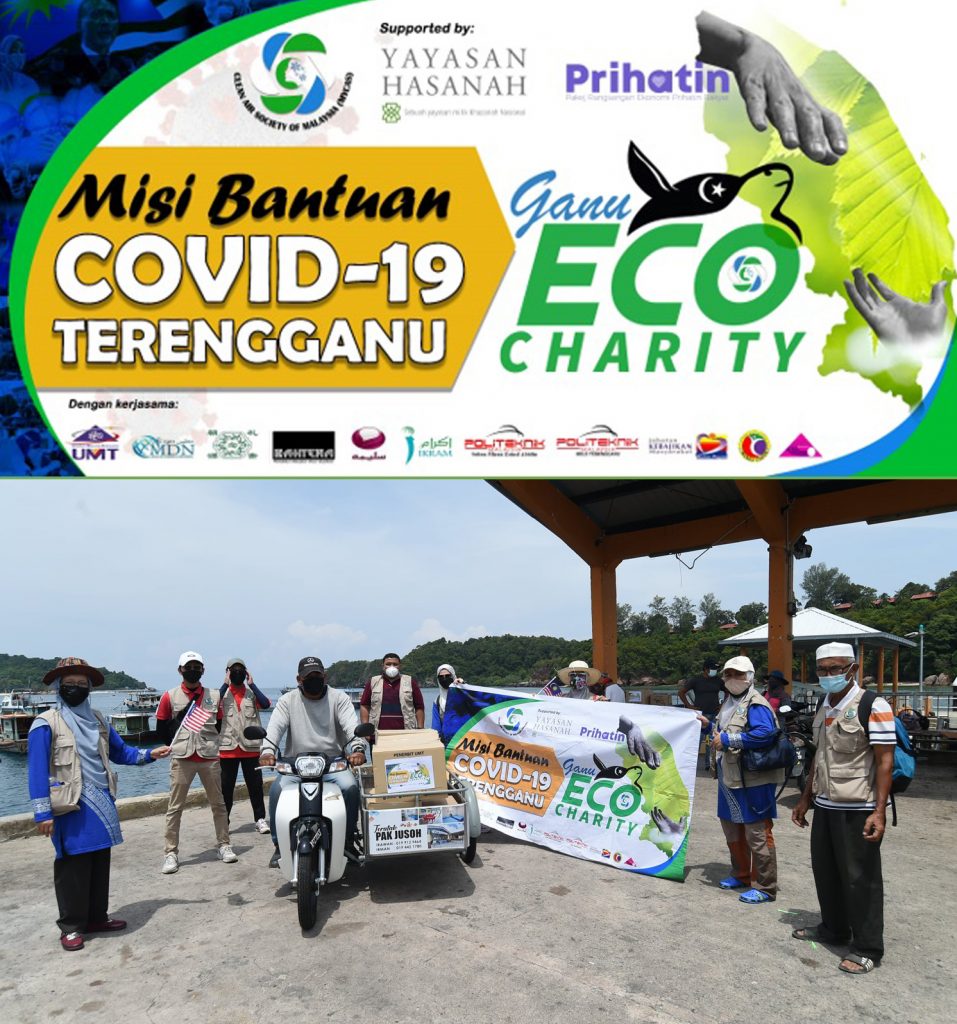 Ganu Eco-Charity is a charity program organized by The Clean Air Forum Society of Malaysia (MyCAS) under The Hasanah Special Grant 2020 from Yayasan Hasanah, Khazanah Nasional. This is also a partnership program with Universiti Malaysia Terengganu, Jabatan Kebajikan Masyarakat Terengganu, a number of local government agencies as well as various NGOs.
The program began in Dec 2020 (Besut) until August 2021 (Pulau Redang) with a total distribution of 1,500 food baskets and hygiene kits garnering a value of RM210,000 in total. These charity gifts were successfully distributed to the most affected B40 communities in the current Covid-19 pandemic within Kuala Nerus, Dungun, Besut and Hulu Terengganu District. This program extended to around 9 months due to the ongoing pandemic and huge coverage area which involved coordination of 23 Subject Matter Experts and 100 volunteers from various institutions and organizations. Media representatives from RTM, BERNAMA, Sinar Harian, UTUSAN and Unit Penerangan Darul Iman (UPDI) had been with us in several occasions.
Through this program, MyCAS, Yayasan Hasanah and all the organizations involved hopes to have at least delivered a smile to the people with every package they received. To an extent, we wish our aids were delivered on time to the needy and was able to shine a light of hope to the affected people in these trying times.
Reference fb: https://www.facebook.com/103468331696534/posts/226100036100029/
—-
Senarai liputan akhbar mengenai Program MyCAS di Pulau Redang, Terengganu:-
1. The Sun Daily (15 Ogos 2021) : https://www.bernama.com/bm/news.php?id=1992827
2. TRDI.my (15 Ogos 2021) : https://www.thesundaily.my/cerita/penduduk-pulau-redang-lakukan-pelbagai-kerja-ikhtiar-agar-dapur-berasap-AI8208112
3. The Star (15 Ogos 2021) : https://www.trdi.my/cari-rezeki-sampingan-sehingga-pulau-dibuka-kembali
4. Sinar Harian (16 Ogos 2021) : https://www.thestar.com.my/news/nation/2021/08/15/pulau-redang-residents-fish-sell-kueh-to-put-food-on-the-table-during-the-pandemic
5. Sinar Harian : (16 Ogos 2021) : https://www.sinarharian.com.my/article/155790/Jual-kuih-bantu-suami-sara-hidup