COURTESY VISIT TO THE SARAWAK STATE MINISTRIES BY THE CLEAN AIR FORUM SOCIETY OF MALAYSIA (MyCAS)
The delegates from the Clean Air Forum Society of Malaysia (MyCAS) paid courtesy visits to three Sarawak State Ministries on 5th August 2022.
The first visit was held at the Ministry of Transport (MOTS) Sarawak which was welcomed by Datu Buckland Bangik, the Permanent Secretary of MOT. The MyCAS delegation led by the President of MyCAS, Ts. Dr. Noor Zaitun Yahaya presented a request to acquire support from the Ministry to promote Sarawak sustainable transportation such as hydrogen bus during the Asean Aerosol Conference (AAC) which will be held in 2024 in Kuching, Sarawak. During the courtesy call, Dr. Noor Zaitun also introduced MyCAS to the Ministry and discussed about future collaborations.
The second stop is at the Ministry of Infrastructure and Port Development (MiPD) Sarawak. The delegations were greeted by Principal Assistant Secretary, Mohamad Zakaria Bin Abdul Wahab. The purpose of the visit was to get acquainted with the latest information of the Ministry related to sustainable port and infrastructure. MyCAS has also given presentations about society, local and international activities, programmes, and engagement.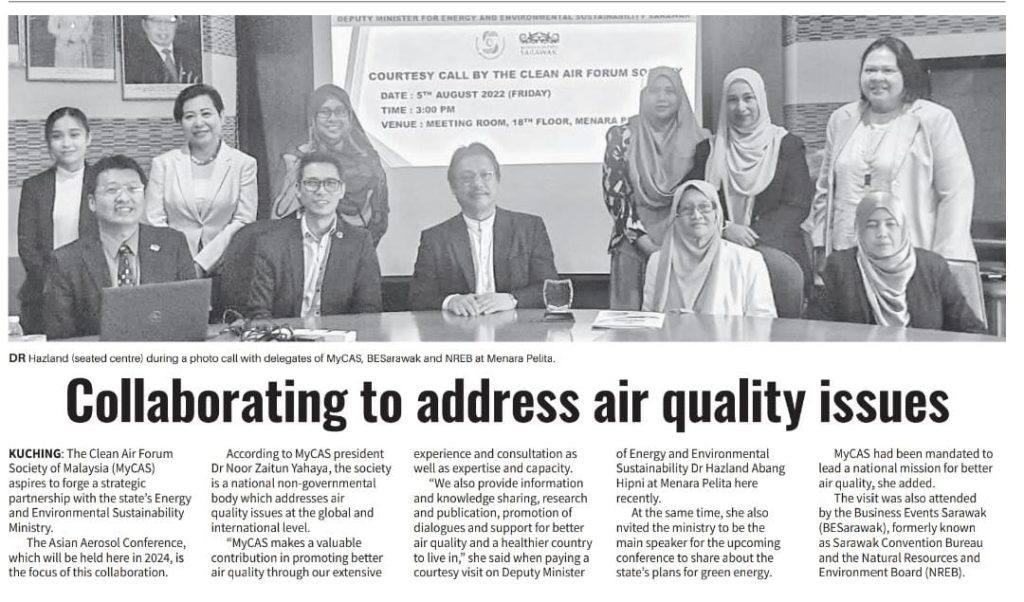 MyCAS paid a courtesy call on YB Dr Hazland Abang Hipni, Deputy Minister of Energy and Environmental Sustainability (MEESTy), at Menara Pelita. The purpose of the visit is to convey messages from MyCAS in order to forge a strategic partnership with MEESTy to organise AAC 2024. The Business Events Sarawak (BESarawak) and the Natural Resources and Environment Board (NREB) were also present during the visit. YB Dr. Hazland also discussed various green initiatives undertaken by the State Government in accordance with the Sustainable Development Goals (SDGs), such as the development of a multifuel charging station by PETROS, carbon storage, and a hydrogen plant in Bintulu. The Ministry will provide full support to AAC 2024, which is also one of their responsibilities in promoting better regional air quality.
MyCAS's courtesy visit has been highlighted in the media, including the Sarawak Tribune and Utusan Sarawak, and can be accessed via this link : https://www.newsarawaktribune.com.my/collaborating-to-address-air-quality-issues/